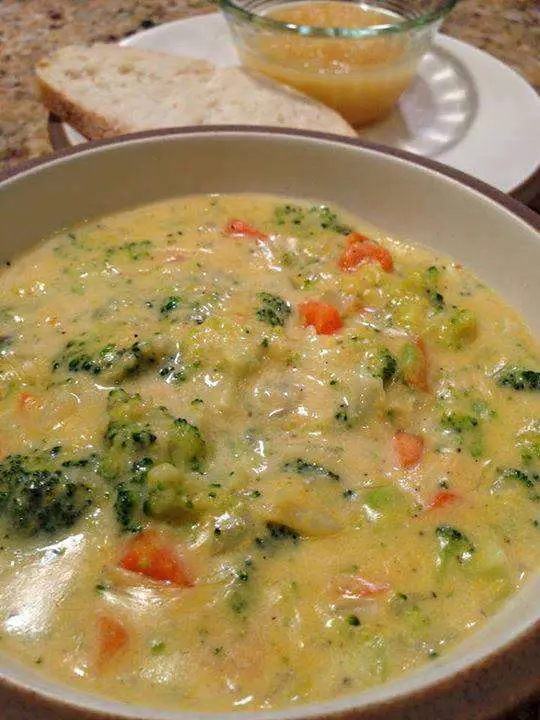 Panera Bread Broccoli Cheddar Soup Copycat is the perfect recipe of your favorite creamy and cheesy soup, that you can now easily make at home.
We love Panera Bread Soups.  Their soups taste like homemade and are perfect during cold winter days for families to enjoy. During cold weather, a bowl of soup goes a long way. We also enjoy the Slow Cooker Baked Potato Soup and Tuscan Chicken Tortellini Soup.
Panera bread broccoli cheddar soup
Panera Bread Broccoli Cheddar Soup Copycat is the homemade version of this delicious recipe I ordered so many times at Panera Bread. With this easy recipe, you can now have your soup fix anytime you want. Seriously, guys, this is one of the easiest soup recipes you can make at home.
This homemade dish is also loaded with extra cheddar cheese and is very rich and flavorful. The perks of making your own soup are you can make it extra, extra cheesy! But don't worry, it also has broccoli and carrots, so you get a good veggie intake too. That is how I balance all that cheese!
Ingredients :
1 tablespoon melted butter
1/2 medium chopped onion
1/4 cup melted butter
1/4 cup flour
2 cups half-and-half cream
2 cups chicken stock
1/2 lb fresh broccoli
1 cup carrot, julienned
1/4 teaspoon nutmeg
8 ounces grated sharp cheddar cheese
salt and pepper
How to make it :
Sauté onion in butter. Set aside.
Cook melted butter and flour using a whisk over medium heat for 3-5 minutes. Stir constantly and add the half & half.
Add the chicken stock. Simmer for 20 minutes.
Add the broccoli, carrots and onions. Cook over low heat 20-25 minutes.
dd salt and pepper. Can be puréed in a blender but I don't. Return to heat and add cheese. Stir in nutmeg.